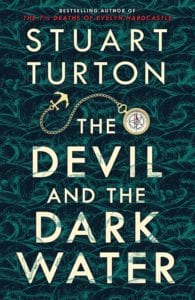 Historical Mystery Full of Twists and Suspence
The Devil and the Dark Water could almost be pitched as "J.J. Abrams' Lost meets Agatha Christie's Murder on the Orient Express set on a 17th Century ship". Maybe the best way to review the book is to explain those elements.
Set on a 17th Century Dutch trading vessel filled with sailors, musketeers, and wealthy travellers, the characters are beset by the possible presence of an actual devil named Old Tom who, if the stories are true, can convince people to commit horrible murders and other crimes. The question of Old Tom's reality or falsity is batted forth continuously both by events on the troubled ship and by the characters themselves, which is what gives the story that "Lost" quality. And while Stuart Turton gives us a more satisfying conclusion to his tale than J.J. Abrams ever did with his TV series, it's impossible to make such an ending fully live up to all the suspense.
An equally compelling aspect to the story, however, is the Orient Express comparison: The Devil and the Dark Water features a rich cast of characters who at first appear to be brought together by chance but we soon realize there are hidden reasons for their presence. This adds to the tension because we don't know who to trust, and when compounded with the powder keg of the sailors and soldiers on board constantly being at each others' throats, makes for a suspenseful read.
Arent Hayes, the protagonist, is a compelling character – not least because he's presented as the sidekick of Sammy Pipps, a Sherlock Holmesian figure who is also a captive on the ship and thus Arent is forced to do the detecting for once. Sara, the other main character, is equally engaging as a woman whose own cleverness and compassion have too long been chained by a cruel husband and society, at last unleashed to put her gifts to use.
I won't say much more here. The Devil and the Dark Water entertainingly blends classic detective fiction, an intriguing historical setting, and the kind of you're-never-sure-what's-really-going-on storytelling style that happens to be one of my favourites. Turton's first book, The Seven and a Half Deaths of Evelyn Hardcastle, was an excellent read, and I'm pretty sure I'll pick up whatever he writes next. There aren't a lot of storytellers like Turton out there, and I wish there were more.
THE BLURB:
It's 1634 and Samuel Pipps, the world's greatest detective, is being transported to Amsterdam to be executed for a crime he may, or may not, have committed. Travelling with him is his loyal bodyguard, Arent Hayes, who is determined to prove his friend innocent.
But no sooner are they out to sea than devilry begins to blight the voyage. A twice-dead leper stalks the decks. Strange symbols appear on the sails. Livestock is slaughtered.
And then three passengers are marked for death, including Samuel.
Could a demon be responsible for their misfortunes?
With Pipps imprisoned, only Arent can solve a mystery that connects every passenger onboard. A mystery that stretches back into their past and now threatens to sink the ship, killing everybody on board.