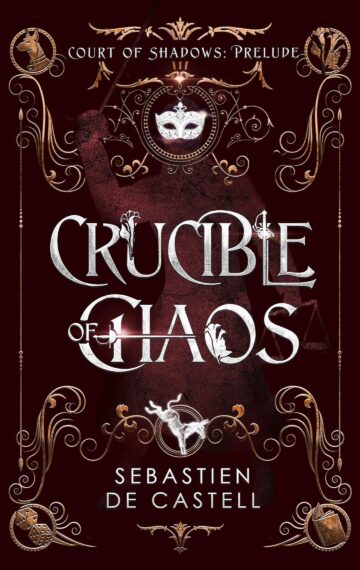 Preorder Now!
Read A Sample
See The Reviews
See The Full Series
Narrator:

Joe Jameson

Available in:

eBook, Audiobook, Print

Pages:

400

Duration:

10 hrs

Published:

December 7, 2023
Crucible of Chaos
The Court Of Shadows
---
A mortally wounded magistrate faces his deadliest trial inside an ancient abbey where the monks are going mad and the gods themselves may be to blame!
Estevar Borros, one of the legendary sword-fighting magistrates known as the Greatcoats and the king's personal investigator of the supernatural, is no stranger to tales of ghosts and demons. When the fractious monks of the abbey rumoured to be the birthplace of the gods begin warring over claims of a new pantheon arising, the frantic abbot summons him to settle the dispute.
But Estevar has his own problems: a near-fatal sword wound from his last judicial duel, a sworn knight who claims he has proof the monks are consorting with demons, a diabolical inquisitor with no love for the Greatcoats, and a mysterious young woman claiming to be Estevar's ally but who may well be his deadliest enemy.
Armed only with his famed investigative talents, his faltering skill with a blade and Imperious, his ornery mule, Estevar must root out the source of the madness lurking inside the once-sacred walls of Isola Sombra before its chaos spreads to the country he's sworn to protect.
Investigate alongside Estevar and the most heroic mule ever to appear in print in this thrilling swashbuckling fantasy mystery by Sebastien de Castell, author of the Internationally acclaimed Greatcoats and Spellslinger series!
---
Praise For The Greatcoats
"An energetic, fun adventure that puts the "musk" back in "musketeer." Guaranteed to increase household swashbuckling by 100%"
LIBRARY JOURNAL
"Fantastic from the first sentence to the last."
JOHN GWYNNE
AUTHOR OF THE FAITHFUL AND THE FALLEN
---
Additional Images
---
---
Looking For Bonus Content?
Sign up for Greatcoats updates, cover reveals, free stories, and giveaways. You'll get free bonus content from the series sent right to your inbox.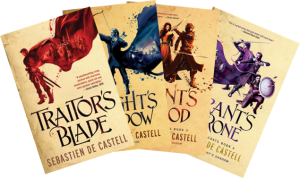 ---
More Greatcoats Novels
---
---
Buy The Book
Click on the store of your choice to purchase this book.
Print
eBook
Audiobook
---