Play of Shadows
Book 1 of The Court Of Shadows
---
IF YOU COULD SEE INTO THE PAST, WOULD YOU REVEAL THE TRUTHS THAT WOULD SHAKE YOUR SOCIETY TO THE CORE?
When the grandson of two famous sword-wielding Greatcoats flees a duel to hide out in a theatre, he unwittingly becomes a conduit for the spirit of a legendary Archduke portrayed as a villain on the stage. But as Damelas begins to learn the truth of what happened in the past, his life in the present becomes more and more dangerous, and soon he'll have to find a way to fight back against those who would kill to keep the country's darkest secrets buried.
Swordplay, magic, intrigue and friendships stronger than iron: the first volume in the new swashbuckling fantasy series by the bestselling author of The Greatcoats.
Damelas Shademantaigne picked a poor night to flee a judicial duel.
He has precious little hope of escaping the wrath of the Vixen, the most feared duellist in the entire city, until he stumbles through the stage doors of the magnificent Operato Belleza and tricks his way into the company of actors. An archaic law provides a temporary respite from his troubles – until one night a ghostly voice in his head causes Damelas to fumble his lines, inadvertently blurting out a dreadful truth: the city's most legendary hero may actually be a traitor and a brutal murderer.
With only the help of his boisterous and lusty friend Bereto, a beautiful assassin whose target may well be Damelas himself, and a company of misfit actors who'd just as soon see him dead, this failed son of two Greatcoats must somehow find within himself the courage to dig up long-buried truths before a ruthless band of bravos known as the Iron Orchids come for his head.
Oh, and there's still that matter of the Vixen waiting to duel him . . .
---
Praise For Court Of Shadows
"An energetic, fun adventure that puts the "musk" back in "musketeer." Guaranteed to increase household swashbuckling by 100%"
LIBRARY JOURNAL
"Fantastic from the first sentence to the last."
JOHN GWYNNE
AUTHOR OF THE FAITHFUL AND THE FALLEN
---
Additional Images
---
---
Looking For Bonus Content?
Sign up for Greatcoats updates, cover reveals, free stories, and giveaways. You'll get free bonus content from the series sent right to your inbox.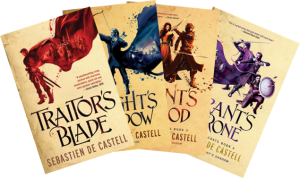 ---
The Complete Series
---
---
Buy The Book
Click on the store of your choice to purchase this book.
Print
eBook
Audiobook
---