soulbinder
Book 4 of the Spellslinger Series
---
HOW FAR WOULD YOU GO TO RID YOURSELF OF A CURSE?
Kellen and his murderous squirrel cat, Reichis, are on their own. They've heard rumour of a mythical monastery, known as the Ebony Abbey. It's a place that outsiders can never find – but Kellen is getting desperate. He's been told that the monks inside the Ebony Abbey know more about the Shadowblack than anyone else – and that they even know how to cure it.
Fate Can Be Fatal
Kellen's curse is growing stronger, promising a future of madness and murder. And now that bounty hunters sworn to kill every last shadowblack have caught his trail, he knows his days are numbered.
Desperate, Kellen braves a barren desert to find a mysterious order of monks rumored to posses a cure. But there are secrets darker and more dangerous than Kellen expected, and the price of his salvation may be more than he's willing to pay.
The fourth in a rich and compelling fantasy series, from the author of the much-loved Greatcoats series, bursting with tricks, traps and a devious talking squirrel cat.
---
Praise For Soulbinder
---
"Told with the conviction of Ursula Le Guin and the dash of Alexandre Dumas"
NEW STATESMAN (UK)
"An intriguing system of magic, wry humor, and a twisting plot make for an entertaining series debut."
KIRKUS
---
Additional Images
---
---
Bonus Content
---
Alternate Nine of Leaves
---
The Septagram
Get More Bonus Content
Sign up for Spellslinger updates, cover reveals, free stories, and giveaways. You'll get free bonus content from the series sent right to your inbox.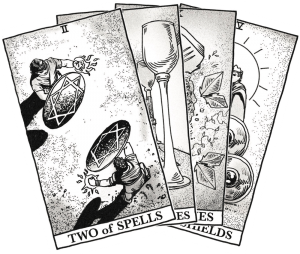 ---
The Complete Series
---
---
International Editions
---
---
Buy The Book
Click on the store of your choice to purchase this book.
Print
eBook
Audiobook
---