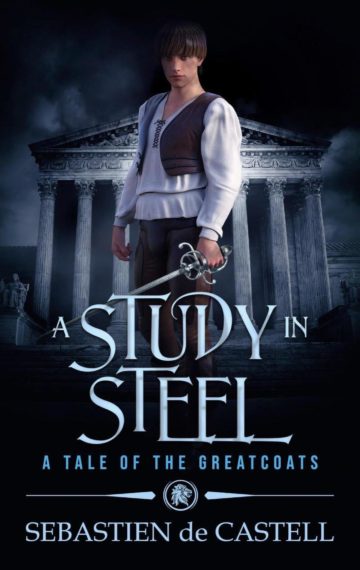 eBook $1.99
Audiobook $3.99
Read A Sample
A STuDy In STeeL
A Tale of the Greatcoats


---
Time and time again, sixteen-year-old Percevar has proven himself too craven and incompetent to wield a sword for the honour of his house. But when his half-sister Aline's life is threatened by the machinations of their unscrupulous relatives, Percevar must learn once and for all the lesson of the blade.
Note: A Study in Steel takes place before the events of Traitor's Blade, the first book in the Greatcoats Quartet.
Story Behind the Story
Little is written about the life of Aline, daughter of Paelis, prior to the events of Traitor's Blade. We know only that she was born to Lady Tiarren, a noblewoman of Rijou, and that her birth was the result of an adulterous affair with King Paelis. When we first meet Aline, she's covered in soot and coughing from the smoke created by the fire that slaughtered her mother's family and nearly took her with it. But who was she before that? What was her relationship like with the rest of the Tiarren family? Were they truly ignorant of her parentage, or were there suspicions raised in whispers that led to plots against her?
Telling her story too directly struck me as cliché: the young, clever chosen one who outwits her enemies. Instead, I wanted to explore someone else's plight – someone who might both bear witness to Aline's brilliant mind while also being unaware of her destiny. That's where Percévar comes into the tale. I'm glad I found him, because it turns out he'll also play a vital part in the upcoming sequel to the Greatcoats Quartet: Our Lady of Blades.
Why Buy Direct From the Author?
A much higher proportion of the cost goes directly to the writer rather than Amazon or other online retailers.
You'll receive the e-book in all formats so you can use it on all your devices
You get wonderful free support from BookFunnel if you change devices and want help loading the story onto it
You can enjoy the audiobook via the free BookFunnel app, in your browser, or even download the mp3 files