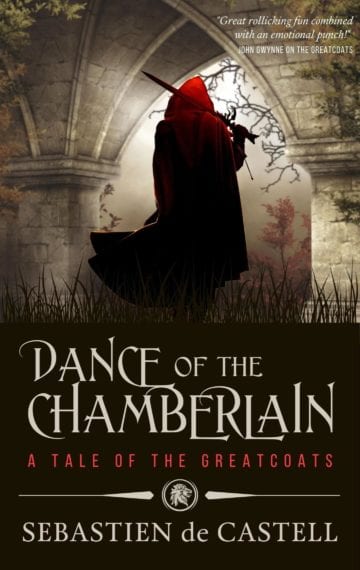 Ebook $1.99
Audiobook $3.99
Read A Sample
Go To My Author Store
Pages:

42

Duration:

1 hour 13 minutes
DaNCE of the CHamBERlaIn
A Greatcoats Novelette


---
When seemingly supernatural events intrude upon the King's Law, one man is entrusted with uncovering the truth and seeing justice done. But can even Estevar Borros explain the chamberlain dancing in a palace ballroom two weeks after his death?
Note: This novelette is set in the world of the Greatcoats.
Story Behind The Story
The legendary order of duelling magistrates know as the Greatcoats has always been made up of a hundred and forty-four judges, each one known by a unique title that represented either a personal style or particular mission. Estevar Borros, the King's Crucible, was the only Greatcoat given the assignment to investigate supernatural events throughout the country. From the moment Estevar hit the page, he revealed himself to be a sort of swashbuckling Hercule Poirot. He's patient and methodical, less prone to grand speeches than his brethren, but more than willing to draw steel should the occasion demand, and above all, to ensure that not even supernatural forces defy the King's Laws. He's well on his way to becoming one of my favourite Greatcoats, and I hope you enjoy him as much as I do!
Why Buy Direct From the Author?
A much higher proportion of the cost goes directly to the writer rather than Amazon or other online retailers.
You'll receive the e-book in all formats so you can use it on all your devices
You get wonderful free support from BookFunnel if you change devices and want help loading the story onto it
You can enjoy the audiobook via the free BookFunnel app, in your browser, or even download the mp3 files