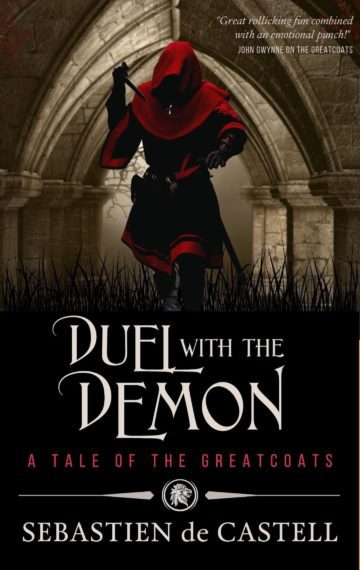 Ebook $0.99
Audiobook $2.99
Read A Sample
Go To My Author Store
DueL with the DEmoN
A Greatcoats Short Story


---
King's Magistrate Estevar Borros prefers investigating supernatural crimes to overseeing mundane trials, but when an inexplicable fight breaks out in his courtroom, he's forced to duel a spirit viler than he's ever known.
Note: This short story is set in the world of the Greatcoats.
Story Behind The Story
Of all the Greatcoats I've written, I think Estevar Borros possesses the greatest intellect. Whereas many of his fellow travelling magistrates are clever, learned, and even cunning, few of them possess Estevar's propensity for discerning the fine points of human behaviour. His weakness, however, is that he turns all his talents towards the supernatural, and I wanted to see what would happen when he faced someone whose dark spirit rivalled that of any demon . . .
Why Buy Direct From the Author?
A much higher proportion of the cost goes directly to the writer rather than Amazon or other online retailers.
You'll receive the e-book in all formats so you can use it on all your devices
You get wonderful free support from BookFunnel if you change devices and want help loading the story onto it
You can enjoy the audiobook via the free BookFunnel app, in your browser, or even download the mp3 files