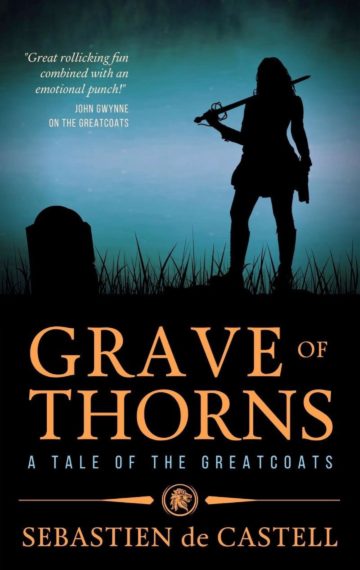 Ebook $1.99
Audiobook $3.99
Read A Sample
Grave of Thorns
A Tale of the Greatcoats


---
Murielle de Vierre was once the King's Thorn, a loyal member of the legendary swordfighting magistrates known as the Greatcoats. But a single poor choice turned her into a traitor, and set her on a path that led far from the ideals to which she'd once held. Now she wanders alone, disgraced and despised, searching for the road home.
Story Behind the Story
There's a moment during Tyrant's Throne when Falcio is facing the thirteen rebel Greatcoats who've just returned to the fold after the near-fatal Scorn ride Chalmers undertook precisely because Falcio knew it would make them realize how far they'd fallen. For a moment his eyes turn to Murielle de Vierre, the King's Thorn. We know what he saw in her: the beautiful woman he'd once trained and with whom he'd nearly begun a romantic relationship. But what did she see in Falcio's gaze? Was it loss and sorrow, or perhaps something darker that Falcio fails to recognize in himself: a brutal rejection of another for having failed to live up to the near-impossible standards to which he holds himself and everyone around him. I started to imagine just how painful that gaze might be to someone who'd genuinely believed she was doing the right thing, and wanted to see what she would do next. This is that story.
Why Buy Direct From the Author?
A much higher proportion of the cost goes directly to the writer rather than Amazon or other online retailers.
You'll receive the e-book in all formats so you can use it on all your devices
You get wonderful free support from BookFunnel if you change devices and want help loading the story onto it
You can enjoy the audiobook via the free BookFunnel app, in your browser, or even download the mp3 files