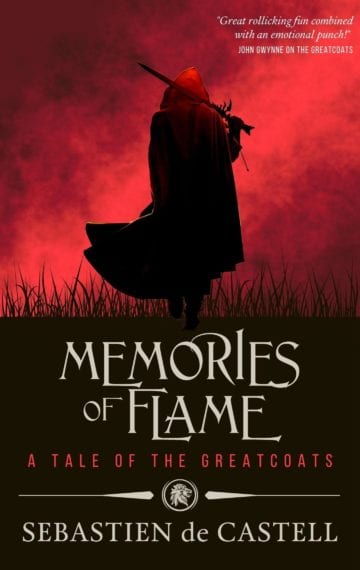 Ebook $0.99
Audiobook $1.99
Read A Sample
Go To My Author Store
Pages:

18

Duration:

25 minutes
Memories of Flame
A Greatcoats Short Story


---
To condemn a child is the nightmare of any magistrate, but for Estevar Borros, the King's Crucible, judging the case of a young boy whose mysterious fires have terrorized his entire village risks a sentence worse than death.
Note: this short story is set in the world of the Greatcoats.
Story Behind The Story
There's something about Estevar Borros that makes writing his stories almost as much of a mystery to me as it is meant to be to the reader. The moment I put a supernatural case in front of him, I find myself uncovering the plot simply by following his logic and seeing the events through his eyes. I'd never intended to write multiple stories with Estevar, but this is my third now and I'm starting to think he'll haunt me until I give him his own novel . . .
Why Buy Direct from the Author?
A much higher proportion of the cost goes directly to the writer rather than Amazon or other online retailers.
You'll receive the e-book in all formats so you can use it on all your devices
You get wonderful free support from BookFunnel if you change devices and want help loading the story onto it
You can enjoy the audiobook via the free BookFunnel app, in your browser, or even download the mp3 files
Author Exclusives will eventually be switched to Amazon and other online retailers, but the cost will likely go up as the royalty rates for short stories on those platforms tend to be prohibitively small.