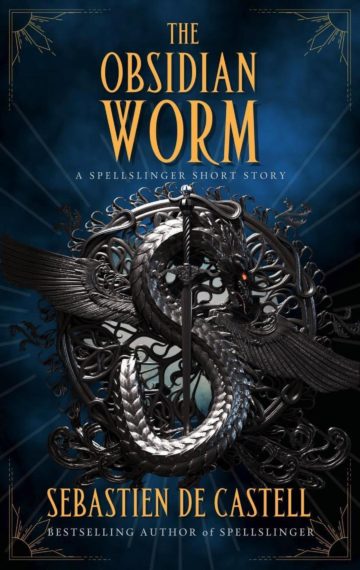 Ebook $1.99
Audiobook $3.99
Read A Sample
Go To My Author Store
The Obsidian Worm
A Spellslinger Novelette


---
Kellen, Reichis, and Ferius have journeyed to a distant land to hunt down the last of the insidious creatures known as the obsidian worms that secretly enslave their victims. But not everyone appreciates Kellen's attempts at heroism . . .
Note: This novelette is set in the world of Spellslinger.
Story Behind The Story
When I was writing Charmcaster, the third book in the Spellslinger series, I wanted to spend some time with Kellen, Reichs and Ferius as they travel the continent trying to rescue those whose lives and the lives of their families were placed under terrible danger by the events of the second book, Shadowblack. Alas, a novel needs to have a unity of theme or else it tends to devolve into a mere sequence of episodes, and that meant I needed to focus Charmcaster on the darker side of Kellen's destiny. But it always bothered me that we didn't get to explore the moment in his life when he consciously tries to take on the role of the hero – to be like Ferius and pursue doing the right thing rather than having fate foist it upon him. The Obsidian Worm is a fantasy adventure novelette that considers the consequences of trying to be a hero when nobody else really sees you that way.
Why Buy Direct From the Author?
A much higher proportion of the cost goes directly to the writer rather than Amazon or other online retailers.
You'll receive the e-book in all formats so you can use it on all your devices
You get wonderful free support from BookFunnel if you change devices and want help loading the story onto it
You can enjoy the audiobook via the free BookFunnel app, in your browser, or even download the mp3 files