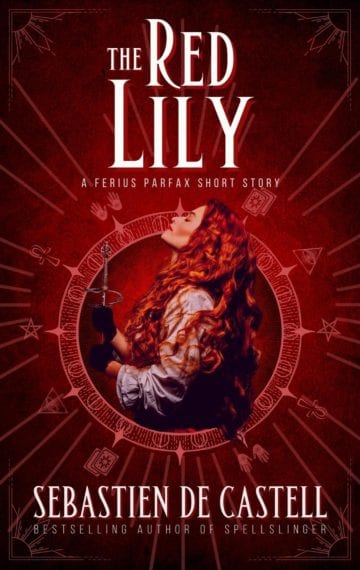 eBook $0.99
Audiobook $1.99
Read A Sample
Go To My Author Store
the red lily
A Ferius Parfax Short Story

Ferius Parfax discovers that her friendship with Kellen has earned her more than a few new enemies. Can an unarmed Argosi taken unawares fend off the deadly spells of a Jan'Tep mage?
Note: this short story is set after the events of Charmcaster, the third book in the Spellslinger series.
The Story Behind the Story
Ferius Parfax has been one of my favourite characters to write since the moment she first swaggered onto the pages of Spellslinger. But because that series tells Kellen's story, we don't often get to see all the secret ways she's gone about protecting him when they're apart. So I wanted to let fans of the series get a glimpse into what happened after Kellen went off in search of the Ebony Abbey, while Ferius had to help cover his tracks to keep his pursuers off his tail.
Why Buy Direct From the Author?
A much higher proportion of the cost goes directly to the writer rather than Amazon or other online retailers.
You'll receive the e-book in all formats so you can use it on all your devices
You get wonderful free support from BookFunnel if you change devices and want help loading the story onto it
You can enjoy the audiobook via the free BookFunnel app, in your browser, or even download the mp3 files