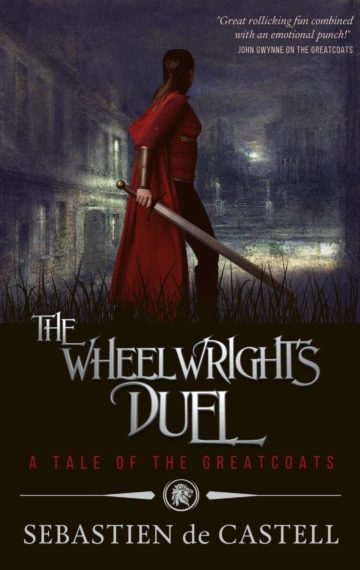 Ebook $1.99
Audiobook $3.99
Read A Sample
ThE WHeelwRIgHT'S DueL
A Tale of the Greatcoats


---
In the troubled nation of Tristia, trial by combat is no mere rustic tradition but the very foundation of their system of justice. Complex legal rules and convoluted procedures ensure great wealth for advocates and entertainment for audiences.
But not everyone benefits from such laws . . .
Note: The Wheelwright's Duel takes place after the events of Tyrant's Throne, the final book in the Greatcoats Quartet.

Story Behind the Story
In the first chapter of Saint's Blood, the third novel in my Greatcoats series, I open with a scene in which the reader is invited to imagine what it would be like to walk into their first duel: the herald coming to present you the writ confirming that you're required by law to fight a duel that day, stepping inside the duelling court, seeing for the first time the opponent who may well mean to kill you, and finally, having to take up the sword in the desperate hope that you might somehow win.
Of course, Saint's Blood is a story about Falcio val Mond, perhaps the greatest living duellist in Tristia (though Kest might disagree), so I never really answer how in the names of all the Gods and Saints you're supposed to survive trial by combat.This story explores one way such an impossible duel might unfold . . .
Why Buy Direct From the Author?
A much higher proportion of the cost goes directly to the writer rather than Amazon or other online retailers.
You'll receive the e-book in all formats so you can use it on all your devices
You get wonderful free support from BookFunnel if you change devices and want help loading the story onto it
You can enjoy the audiobook via the free BookFunnel app, in your browser, or even download the mp3 files